Tripawds is a user-supported community. Thank you for your support!
All Raven's vets are amazed. Twice I had made the decision to "let him go" and he's rallied before the vet arrived. His problem is not bone cancer ironically, but the liver mass we discovered at his ER trip nearly 3 weeks ago.
They expected that he could go "any day, any moment" from septic infection of the necrotic mass or a bleed out. That was 3 weeks ago. A week ago, his oncologist felt we could try to remove the mass. My vet was tentative, but said he would do it if I want to. But, he was leaving out of town for 3 days, so no decision needed to be made until he returned. I honestly wasn't sure if Raven would make it if he worsened quickly. Well, he's gotten better!
Gosh, I almost don't like posting these because it's either really bad or really good, but that is the way it goes for us this month. I have to admit, most of the "really bad" days are in my head! I have the knowledge of what is going on inside him and panic and want to prevent his suffering *before* he is suffering. He really never is. What he is on bad days is sort of uncomfortable, like a pregnant woman. It's huge inside and putting pressure on other things. He has incontenant problems if not let out every 2-3 hours, so I get up 3x a night for that so that he can still sleep in bed with me where he wants to be (and me too). And he started vomitting last Friday night and Saturday, but I realized it's not nausea or liver failure (no jaundice, great appetite), it's pressure on the stomach. So, that's been solved with 5-6 mini meals through the day so we can continue to get his meds into him. I also periodically give him a litre of fluids sub-q with dexamethazone and B-vitamins and that always really helps him feel great.
Tom is working on Saturday and I will go see him and discuss if we should still consider surgery to remove it. I hate to put Raven through it, but it could be benign (oncologist thinks it's a good chance) and I hate just doing nothing, it will kill him if I do nothing. Tom said he would want his other surgeon in attendance, so has to be a day they both are working, probably not until next week. So, we will see how he's doing then. It would be risky, we don't know how many vital organs are involved until they get in there. The incision would be large because it would be exploratory and a lot to remove.
It sounds so cliche, but I really am struggling to learn to live ONE DAY AT A TIME. Right now, he's feeling about the best he ever has, don't know if it was that his Auntie Laura came to visit yesterday or if somehow the thing inside shifted or actually is shrinking. But he's about normal. He even made it 5 hours without having an accident in bed when I slept through until 4am. So, something's changed.
I didn't think he'd make his birthday on the 15th and tomorrow is Christmas! Here is my email to Laura from when I got home last night:
"You must be good medicine, Raven was so happy, he did the Fall Over And Rub My Belly and then that quickly turned into Make The Floor My Facerag while he was making happy moaning gargle noises. Music to my soul! Wolfed his meal, bounced, wagged. :). Gosh, maybe I should talk to Tom again about surgery?"
And video here:

And this morning asking for his chew bone:

And, oh the indignity, but I had to get a Xmas shot…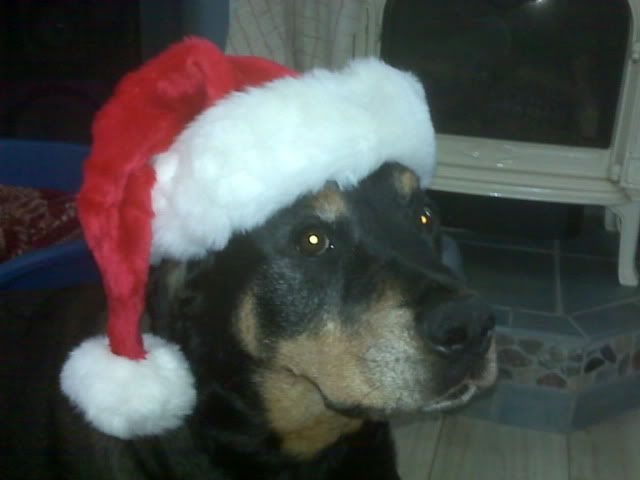 And with his favorite cow: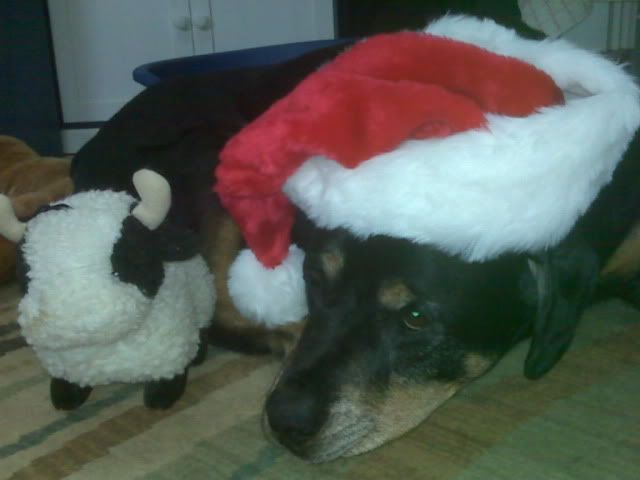 One day at a time…. Every morning I wake up with him snuggled along side me is Christmas. 🙂