Tripawds is a user-supported community. Thank you for your support!
Please bear with me if you are not Christian, the quote below is so wonderful…
I have this book of daily encouraging words called Jesus Calling by Sarah Young. This morning, I have quoted below what it said, it is always written as if spoken by Jesus. I swear, Raven could have said these exact words to me this morning. And every morning for that matter. The odd thing is that I always consider the way he worships me with such selflessness; I am his provider and in his case, even his creator (AI from his father post-mortem). I have felt that God sent him to me to be an example of how I should be in my relationship to God. And just like Jesus, who was a servant and a master both, humble and great, my protector and my redeemer; dogs can just as perfectly speak to us *as* God, rather than the other way around as in today's quote from the book:
"Let Me bless you wtih My grace and peace. Open your heart and mind to receive all that I have for you. Do not be ashamed of your emptiness. Instead, view it as the optimal condition for being filled with My peace.
"It is easy to touch up your outward appearance, to look as if you have it all together. Your attempts to look good can fool most people. But I see straight through you, into the depths of your being. There is no place for pretense in your relationship with Me. Rejoice in the relief of being fully understood. Talk with Me about your struggles and feelings of inadequacy. Little by little, I will trasnform your weeknesses into strengths. Remember that your relationship with Me is saturated in grace. Therefore, nothing that you do or don't do can separate you from My presence."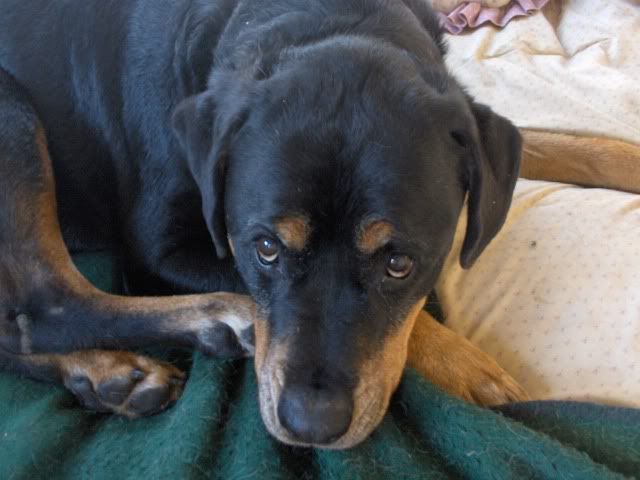 We are on our way this morning to his new oncologist to hopefully get some answers. Today is the day that I may hear some things that I really don't want to know, but I need clarity. Now is when I truly need his strength that he so freely always gives. 🙂