Tripawds is a user-supported community. Thank you for your support!
On our way to the doctor with Betty.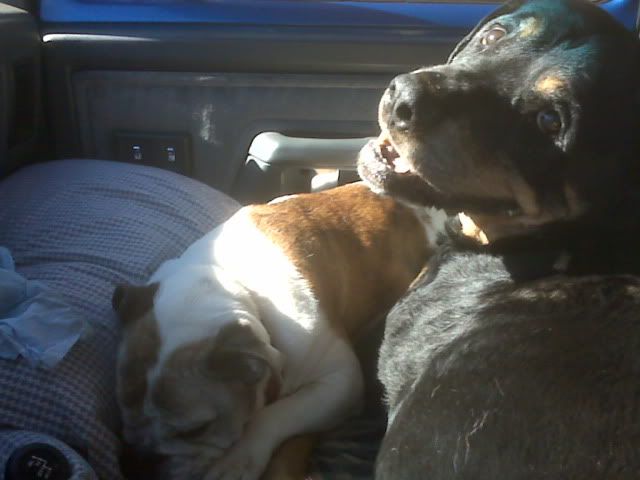 The chest xrays were downright scary.
A week or so after his amputation his lungs looked clear, with one questionable met. His trip to the ER five weeks later showed about 6 or 7 tumors in his lungs, these were debated among Auburn Univ. ocologist, my vet, and the ER vets. But after reviewing the films with the new vet last week, she confirmed they were. So, to see their progress (and if no progress, to address possibly biopsying and addressing his liver issue) we xrayed yesterday and saw DOZENS. They can't even be counted. With some very large ones. His lungs are still working, and he was bouncy and wagging and doing his Boomy Bark at the vet's office, you would never know it by looking at him. Let alone that his liver is riddled with tumors and nodules on every lobe too. He is truly a miracle.
Nov. 10, 2009
Mets look like little grey circular spots. There is probably one in the bottom of the black area of the film just to the right of the heart.

Dec. 7, 2009
There are 6 or 7 now, varying sizes. This film is reversed from the previous one. Some look like they are on the rib bones, but the rib is just overlapping it on the film.

Jan. 16, 2009
They are now everywhere. The one that looked like it was on the rib bone is now huge (there is actually two there, one on each side of him, overlapping each other). Along with another very large one below the windpipe and in front of the heart. If you could blow this up and lighten it, they are *everywhere*.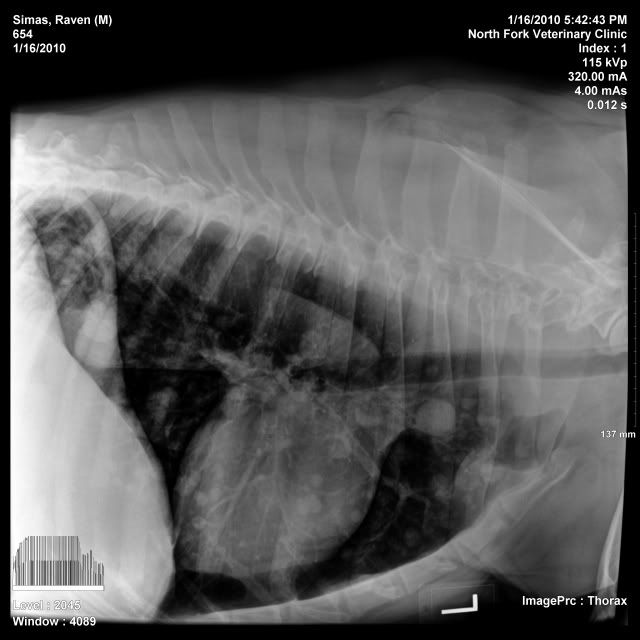 So, this is what I feared. Nothing can be done about this, and there's no point in putting Raven through further treatments to figure out his liver/spleen masses. However, we still need to show these films to the new vet that specializes in oncology and I have questions for her on meds as a form of chemo and keeping him comfy. Which he certainly still is! He has never coughed or bled, although I am sure that will come. He sleeps soundly and loves to run and wag for people. He bounces for his food, or even at the hope of it. 🙂 And my alltime favorite, he loves to use the bed or the floor as his Face Rag and makes his Happy Groany Sounds when he rolls. He is so strong, such a warrier and a Baby Huey all in one, my sweet boy, my inspiration.