Tripawds is a user-supported community. Thank you for your support!
Tripawd Mom Mary came up to visit again with Cemil and her quad dog Alle! We all met at my vet's for a check up for everybody. Dr. Tom Sheriff is the best! 🙂
We were on pins and needles when we all went in for Cemil's xray, and it was negative for mets! WOOHOO! And Alle is diabetic, so she had a check up and her sugar levels were great with the treatment her Mom Mary is giving her. WOOHOO! And Tom listened to Raven's heart and lungs and said he sounded and looked good and we feel that his mass is not any larger, so seems to have slowed down or stopped. Possibly due to the cortisone and antibiotics. WOOHOO!
Alle and Tom and Mary:

Mary brought Raven a little gifty, a great bandana that he's been wearing ever since: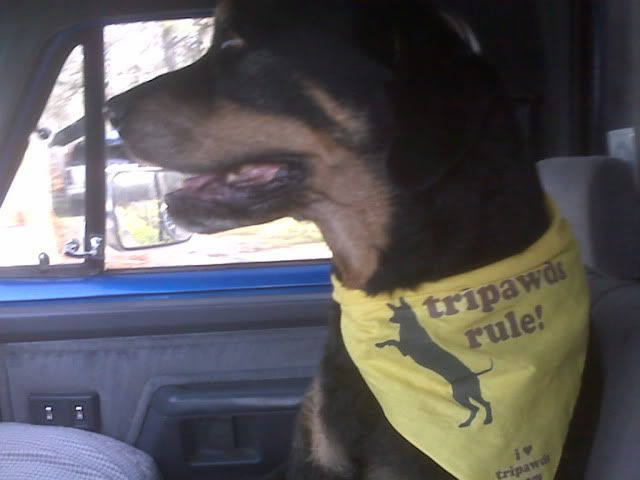 Cemil being a funny doofus in my living room, made us laugh!

A great day was had by all! Except of course until Mary got back home to the bay area and her dogs snatched and scarfed the 10-12 Rimadyl pills that I gave her for Alle. Spent the night in the ER. 🙁 See her blog for full details:
cemil.tripawds.com
And here's a video link to last night of Raven catching little ham treats. He's a great catcher.
http://www.youtube.com/watch?v=aA1Tc6kpf_4
So, Raven continues to do well. Despite the fact that I believe he has developing progressing lung mets. I found a spot of blood on the bed last night. And he's got a runny nose, breathes shallow, tires easily. But really, it's the least of my worries with the liver mass. But it's all about keeping him comfy, which he is! 🙂