Tripawds is a user-supported community. Thank you for your support!
Three months today! 🙂
Last night, Raven felt pretty back to himself, a good night. I've had to resort to feeding him a commercial zoo carnivore diet I have on hand for the big cats. It's a balanced raw meat. I mix it with rice and some kibble to not upset his system too much. I've actually decided I may just want to always feed this to all my dogs in the future. With all the dog food scares, I can't trust any of the fillers (wheat gluten, preservatives, etc) in even the high end ones. I fed Raven Nutro Max his whole life. I was finally overwhelmed by the amount of recalls and lawsuits they have had and switched to a high end, no grain, Taste Of The Wild for twice the cost. Well, I googled it and they are made by Diamond, the company that was involved in a ton more lawsuits with the China recalls a few years ago. I sometimes wonder if this is why our dogs get cancer…
Anyway, last night he ate his meal with more gusto, drank well, and slept pretty comfortably. He's been picky with food, getting dehydrated because he won't go to the water bowl, so I have to put it in front of him all the time, and I think he has boughts with fevers in the early evening and that's why the restless panting. He's cooler to the touch around 4am when he finally sleeps soundly.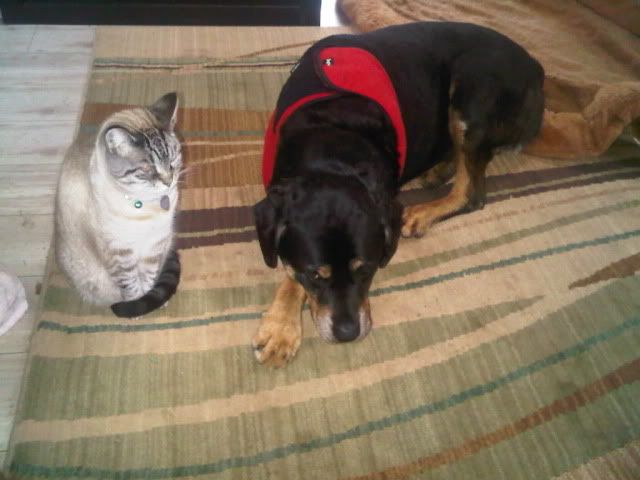 Last night with his kitty, Cowboy.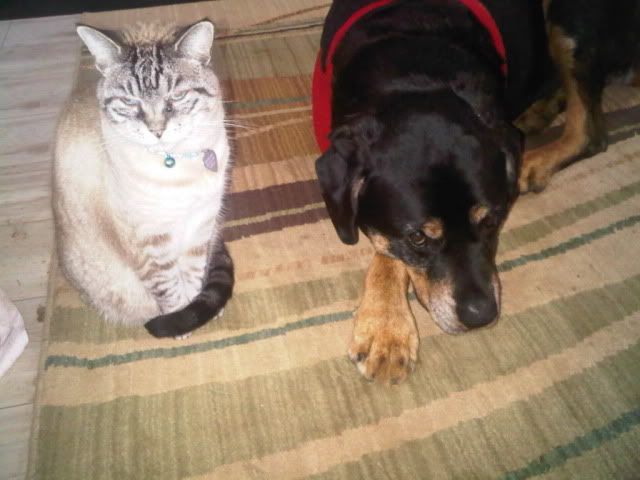 I was thinking about the fact that it was his 3 month ampuversary today and reread the begining of his blog. I saw that I thought he was bloating in the first week. It was actually the same condition as the day I took him to the ER 3 weeks later and discovered this liver mass. I suspect it was there before the surgery and amazes me that he endured all that and the meds (filtered by a diseased liver) in that condition. If I had to do it over, I would xray the abdomen prior to surgery, not just the chest. BUT on the other hand, they said his leg would have broken within a month if not removed, so that would have been 2 months ago. By amputating, he's had 3 months pain free pretty much, so I do not regret it for a second.
However, this morning I think he's bleeding out again. He does this off an on a lot I guess by the change in attitude and pale color. He was rolling happily in the bed this morning, went out to pee and looked stronger than the last few days. Then laid down out there in the yard. I called him to come eat and he wouldn't come. I brought his food to him and he turned his nose up at it. Even the raw meat (with pills). I force fed him his Baytril and metoclopramide at least, and he picked through the yolk of a hard boiled egg. So that's all that is in his stomach and I can't get any more. He's very pale, almost greyish. Yet, his spirit is willing. He wanted to come out on chores with me and then came back for his morning bone chew. Confusing! He ate up the Busy Bone I offered him and enjoyed chewing and *eating* it.
Well, it's all about him, so I'm glad his spirit is willing and happy. I will let him rest and see if he recovers from the bleeding. At least they say that is painless. Not the ampuversary day I was hoping for. We are going for a car ride on errands later, we'll see how interested he is in that. He is comfortable and I am with him for one more day. I am grateful every moment I glance down, as now, and he's looking back up at me. 🙂