Tripawds is a user-supported community. Thank you for your support!
Raven had another restless night. Odd, I wish I knew what it was. He fusses and flips sides back and forth and pants now and then. Finally, around 4-5am, he sleeps soundly. I don't get it. I may try a Tramadol tonight at bedtime and see what that does.
For the first time, Raven hopped to his food bowl this morning, but turned his nose up at it and just looked at me. 🙁 I suspect tummy upset, but he's not vomitting or even air licking. I needed to dress up the food with more blood from the meat, raw elk steak pieces, and hid his pills in a hard boiled egg. He still gobbled the egg, and ate out the meat and licked the juice, but left the cottage cheese/rice/raw egg/kibble in the bowl. He didn't want to eat standing up, so he got to eat on the floor. His cat joined him to show him if he didn't, Cowboy would eat it all for him…
A bit later, I gave him a Metoclopramide (a motily drug that helps nausea). He perked up a bit and hopped around begging to lick the bowl with cookie dough batter. 🙂 As he'd push it away by licking, he'd bite it and pull it back to him. Smart doggy!
Now, he's just resting in front of the fire. You can see his distended belly (shaved from ultrasounds), and even his ribcage pops up when he lays on his side. But this is not bad, it's actually pretty okay right now, when off the anti-inflam and antibiotics, it was much worse. Which is why he went to the ER with me thinking it was bloat back on Dec. 6.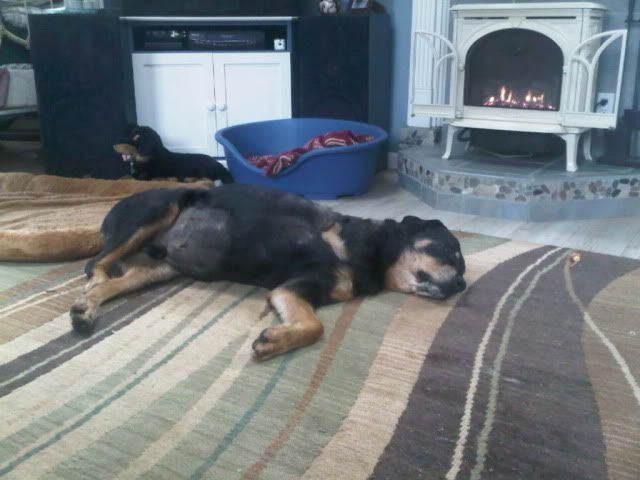 So, I'm getting some bookkeeping done, I'm off work today, and just staying ever-so-grateful that he's not hurting and is just resting and comfortable *right now*. 🙂