Tripawds is a user-supported community. Thank you for your support!
The roller coaster continues. I spent the day worrying about everything being our "lasts". I came home from work like usual, expecting that for the first time (since he was lethargic and weak all day) that he wouldn't be bouncing at the door. It was dark, and indeed as I opened the door, I heard him crowding the door and bouncing. I burst into tears, dropped to my knees, and sobbed into his fur as he licked the tears from my face. It was good to get it out.
So, this morning, we woke up and he did his stretch in bed and then was his usual Moany Groany self. This is his Use The Bedding As A Face Rag time that I've videoed before. Oh, and yes, he barks if you get near his toenails… I had the cell phone handy and got this today:
http://www.youtube.com/watch?v=xFaMDY0Q8SE
Then he happily chewed his morning bone and went out with me for chores and bounced for his hard boiled egg (video in a past blog) and then even became Mr. Warrior at the sight of a dog near his perimeter in the distance off the pasture. Here's his tough dog stance: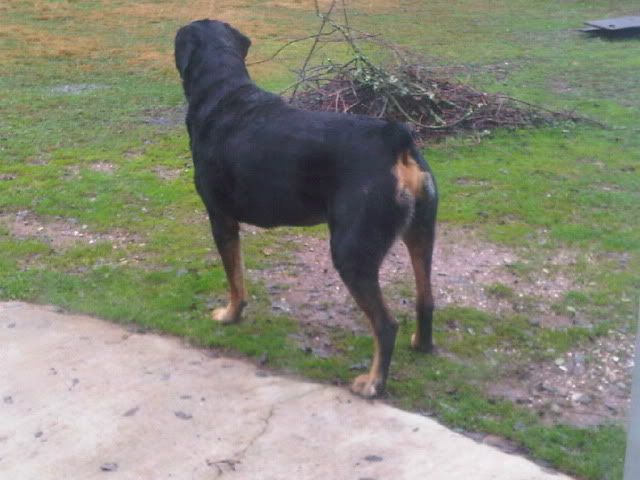 Although, he can't go far without laying down. And he's coughing a lot and does a gag reflex now and then. Sort of like he's got a cold. But he loves his food and eats fine, pees, poops, isn't in any pain. I just started him on Metacam yesterday since he hasn't been on any anti-inflamatory meds since weaning off the corticosteroid a while ago. So, if he's got some discomfort I'm not aware of, that should help. The tummy distention seems to be back under control with the Baytril.
So, today is not the day. One day at a time, loving him every moment. 🙂
*Thank you* to everyone for being there and all of your input…